Our Dog Bones
Our hand-made dog biscuits have been created by persons supported by Sparc. Your purchase of Beg-O-Bone dog biscuits will help to continue to provide paid work opportunities for people with developmental and intellectual disabilities.
Beg-O-Bone produces fresh dog biscuits for retail sales while providing work training for people with disabilities. Our bakery is set up in our Work Center facility located at 2929 Stanton Avenue, Springfield, IL, where dog biscuits are produced each day.
The folks supported by Sparc measure, mix, roll, cut, and bake the biscuits. The persons receiving supports are then responsible for quality control and packaging.
Beg-O-Bone dog biscuits are perfect for banks, dry cleaners, drive-thru's, mail carriers, police officers, or utility workers such as telephone repairmen and meter readers to keep a little treat handy.
Beg-O-Bone's biscuits are made from all-natural ingredients: white flour, whole wheat flour, dark Karo syrup, molasses, garlic powder, and silicon dioxide.
For more information, please call Jeremy Johnson at (217) 793-2100 or email jjohnson@spfldsparc.org.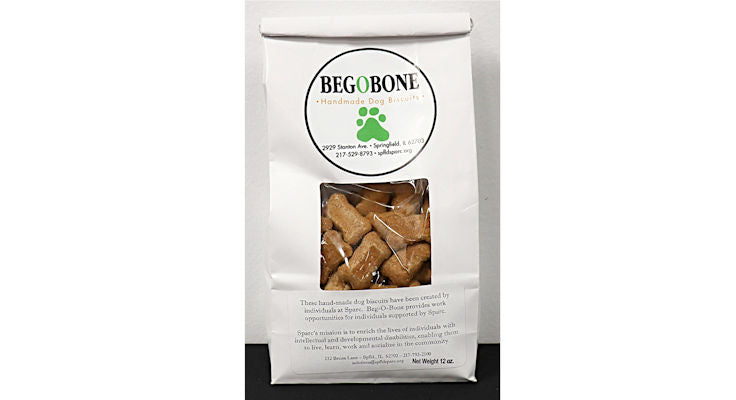 Order Beg-O-Bones
Select the button below to purchase our handmade
Beg-O-Bone treats.
Beg-O-Bone Shop